SFBJA's 2nd Annual Black Male Media Project
On 

Saturday, June 2

, we invite you to participate in the South Florida Black Journalists Association's 2nd Annual Black Male Media Project. This event is part of a nationwide initiative organized by the National Association of Black Journalists to not only examine the experience of black males in media, but to also #inspireblackmen, as stated in the official hashtag for the nationwide event.
This year we will have 
a special presentation by CBS National Correspondent Demarco Morgan followed by a panel discussion moderated by NBC 6 reporter Darryl Forges that you won't want to miss. The panel will feature
: WPLG Anchor Calvin Hughes
, Radio Personality Rick Party
, NBC 6 Photographer Tony Phelan, NBC 6 Social Media Editor
 Jermell Prigeon, and Journalist James Pierre.
The Black Male Media Project kicks off at 

2 p.m.

 and will take place at Florida Memorial University's FIU-FMU Auditorium located at 15800 NW 42nd Ave, Miami Gardens, FL.
Please use this link to register for the event.
This event is free, but we are accepting donations to help us do more for our community of journalists. If you would like to donate, you can do so when you register as well.
Thank you for your support and see you Saturday!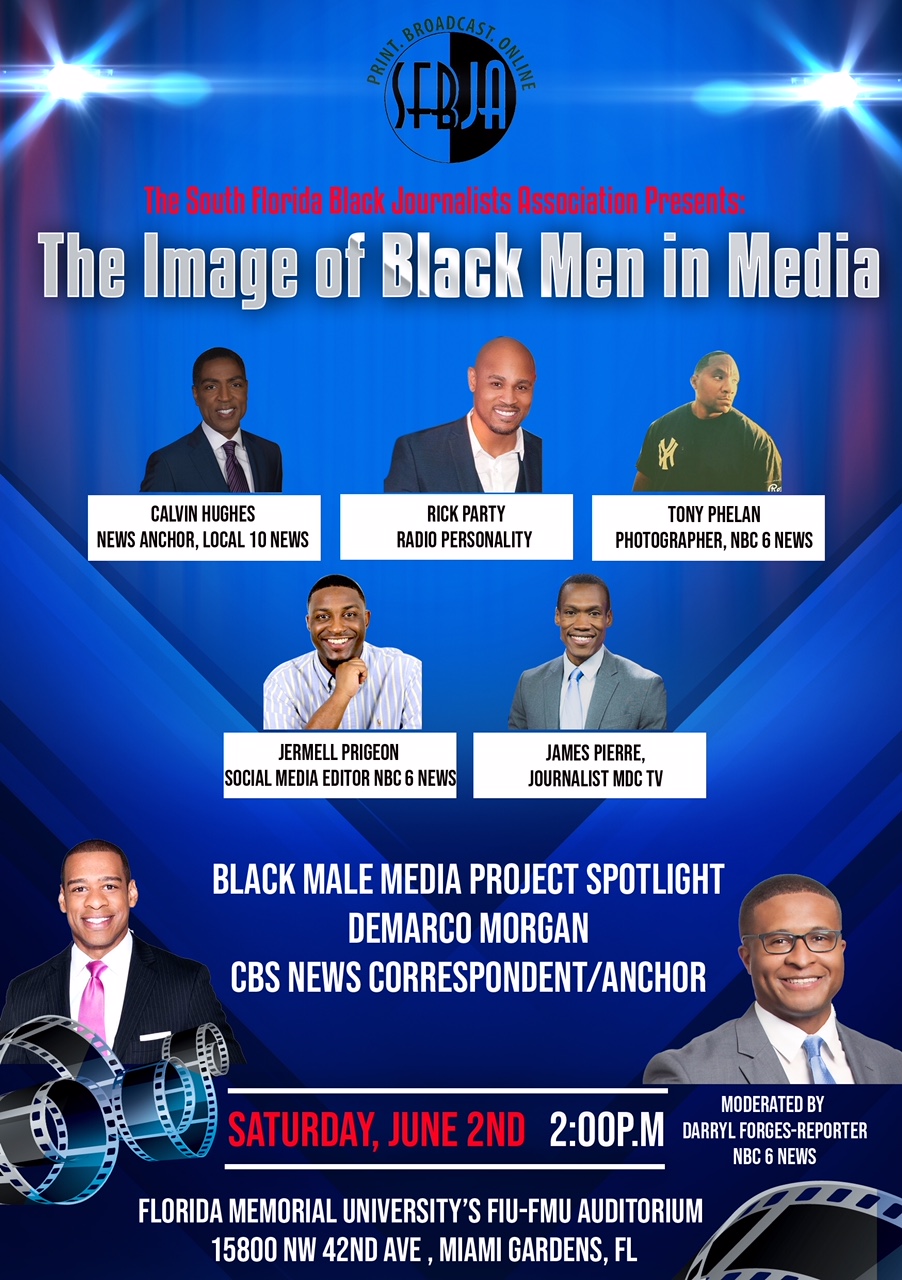 Meet the Special Correspondent: 
DeMarco Morgan is a correspondent for CBS News based in New York and reports for all CBS News broadcasts and platforms.
Since joining CBS News in October 2015, Morgan has covered a number of stories ranging from a provocative series addressing the nation's heroin epidemic to being the first on the air for the network anchoring a special report on the Pulse nightclub shooting in Orlando. He also sat down with U.S. Attorney General Loretta Lynch for an exclusive interview at the Department of Justice on community policing. Morgan joined CBS News from WXIA TV in Atlanta, where was a reporter and co-anchor of the station's 5:00 PM, 6:00 PM and 11:00 PM weekday newscasts since 2012. When he was not on the air, Morgan also taught broadcast writing and reporting at Morehouse College and Clark Atlanta University.
Previously, Morgan worked as a weekend anchor for WNBC-TV in New York while also serving as a cut-in anchor for MSNBC. Prior to that, Morgan worked as a weekday evening anchor and reporter at WTVJ-TV in Miami, at WISN-TV in Wisconsin, and at WJTV-TV in Jackson, Mississippi.
He has been honored with several awards including 2009 Thurgood Marshall Prestige Award for his community service efforts while working at WNBC; the Atlanta Business League's "Men of Influence" Award in 2012. He was named one of the nation's Top Ten Collegiate Journalists in the country in 2001 by Scripps Howard and named one of Ebony Magazine's Top 30 Future Young Leaders of America in 2006. Morgan was also named one of South Florida Magazine's top 40 most influential black professionals in 2008.
Morgan graduated from Jackson State University, where he received a Bachelor of Science in Liberal Arts. He also earned a Master's degree in journalism from Columbia University. While at Columbia University, Morgan was a Fred Friendly Scholar and interned at CBS News and "48 Hours."
Meet the 
panelists:
Calvin Hughes, 
WPLG Local 10 News Anchor
Emmy Award-winning newscaster Calvin Hughes co-anchors Local 10 News at 4, 5, 6 and 11 p.m. Calvin, who earned his Bachelor of Science in journalism from the University of Missouri, has worked as an anchor/reporter in three of the nation's top 10 media markets, including Philadelphia, Atlanta and Dallas. He has also carried his pen and reporter's notepad to Lexington, Ky., Evansville, Ind., and Columbia, Mo., where he launched his career on the radio at the age of 19.
When he joined Local 10 News, Hughes and his family did not hesitate to delve into the richly diverse communities of South Florida.
In 2008, after reporting on a story about Haitian refugees who risked and, in some cases, lost their lives in a deadly voyage set for the shores of Miami, Hughes relentlessly pursued an opportunity to report comprehensively on Haiti. Two years later after the disastrous 7.0 earthquake struck the country, Hughes was well-suited to be one of the first journalists in Port-au-Prince to cover the devastation.
His passion for the people of Haiti and their indomitable spirits has led Hughes to return to Haiti more than a dozen times.
RICK PARTY has distinguished himself as one of the most innovative, visionary and dynamic media personalities across the country today. RICK PARTY is so much more than a Radio | TV | Social Host: He's a Husband, Father, Motivator, Leader, Life Changer and Enfluencer!

Tony Phelan, Photographer and NBC 6 Cameraman

Tony Phelan is award-winning photo journalist from NBC 6. Who is been in news for over 20 years. Working in Memphis Pittsburgh fort Myers and Miami.   He got his BA in mass communications at rust college in Holly Springs Mississippi. When he's not out driving around with reporters and taking pictures and he is dancing around as the dancing photog. Having fun and spreading positivity. He also has a still photography business PopUp Photo Shoot. If you need any of his information you can reach him atTphelan110@gmail.com
Jermell Prigeon is the Social Media Editor at NBC 6 Miami. He is a Broward native and is a graduate from the School of Journalism and Graphic Communication at Florida A&M University. He has previously interned at the Huffington Post, the Florida House of Representatives and TMZ. He is also an accomplished violinist and cellist.
James Pierre is an award winning journalist with almost 20 years' experience in Radio and Television.
Originally from Haiti, James  has called South Florida his second home since 2008. He graduated with honors from The Miami Dade College School of Entertainment & Design Technology (S.E.D.T.) with a bachelor's Degree in Television, Film and Digital production and a Master's Degree from St Thomas University in Communication Arts (Specialization Electronic Media arts). He currently serves as producer and anchor at MDC-TV.
James has covered some of the biggest stories in Haiti and South Florida. He guided viewers through the intense protests in Haiti in 2004 that forced President Aristide to exile, the coverage of the earthquake that stroke Haiti in 2010 and the cholera outbreak, TPS for Haitians in 2017 and the arrest of former president of Panama Ricardo Martenelli.
From the anchor desk, James hosts The Talk with James Pierre.
Meet the host
:


Darryl Forges is a morning reporter for NBC 6 News. Darryl hails from Fayetteville, Georgia.
Before coming to NBC 6 Darryl was a reporter for the CBS/ABC Affiliate in Montgomery, Alabama, starting in the South Alabama Bureau, and quickly worked his way up to the morning reporter and fill-in anchor position. While working in Montgomery, Darryl won several awards including an Alabama Broadcasters Association award, as well as two Associated Press Awards.
Darryl covered several historic events, including President Obama's visit to Selma for the 50th Anniversary of Bloody Sunday, and the 60th Anniversary of the Montgomery Bus Boycott. Darryl also covered stories about education, and investigated whether or not the needs of special needs students were being met in some public schools in the state.
Darryl also interviewed several political figures and media moguls like Oprah Winfrey, John Legend, and Alabama Governor Robert Bentley during a national story about his alleged affair with his advisor.
Darryl is a proud graduate of the University of West Georgia where he majored in Mass Communications, and minored in Political Science. While he's away from South Florida news Darryl enjoys spending time with family, his dog Nola, and working out.